SS Travels car hire near Cochin Airport [COK]
Our service allows you to compare the prices and other characteristics of rental cars from SS Travels and other car rental companies in Cochin Airport and choose the most suitable option for you.
After doing a search on our website, you will get access to most or even all available offers from world-class rental companies and local providers Cochin . On our website you will find the best price offers for all available locations. Our long-term contracts with SS Travels and other leading car rental companies allow us to provide cars at good rates.
On our website, you can buy an "excess insurance" that will allow you to reduce insurance costs by 30-60% and at the same time to be even more secure than with the standard insurance from SS Travels. We try to take care of every client! If you have any questions regarding car rental on our website, do not hesitate to contact us - we are always ready to help you.
0.0 / 10
Overall value for money
---
0.0 / 10
Cleanliness of the car
---
0.0 / 10
Service at the rental desk
---
0.0 / 10
Car hire pick-up process
---
0.0 / 10
Car hire drop-off process
Average waiting time is min
SS Travels car rentals in COK Airport, India
This page will help you to choose the right car from SS Travels in Cochin COK Airport. Enter the dates of the pickup and drop-off of the rental in the search form above and click "Search" or select the car that interests you from the list below. In the list, there are cars provided by SS Travels in Cochin Airport. SS Travels cars are edged with an orange frame. Also, there are cars from other companies and from neighboring locations that will help you to choose the most appropriate at a car rental price and other parameter options.
SS Travels hire cars in Cochin Airport [COK] and other relevant vehicles

Unlimited mileage
Airport fee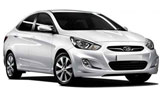 Unlimited mileage
Airport fee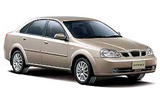 Unlimited mileage
Airport fee
Chevrolet Trailblazer
SUV
Unlimited mileage
Airport fee
Toyota Innova
7 seat people carrier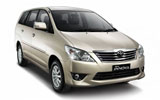 Unlimited mileage
Airport fee
Skoda Octavia
Intermediate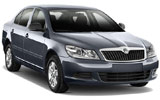 Unlimited mileage
Airport fee
Unlimited mileage
Airport fee
What to know about SS Travels car hire at Cochin Airport [COK]?
Company name:
SS Travels Car Rental
Address:
Kerala Airport - COK
Excess fee
Fuel policy
Pick up and return full
Pickup type
Meet and greet
Bonuses
Young driver
Airport fee
Breakdown assistance
Unlimited mileage
Map of SS Travels car rental locations near Cochin
To access the widest rental options in USA, select airport locations. If you are looking for a specific car, you can probably find it in COK Airport, India. At rental points in the city center and in other locations, the car park is slightly smaller, but the prices are usually lower than at the airport.
SS Travels rental cars available in Cochin COK Airport
If you are looking for a car of a certain class, go to the corresponding page from the list below. You can see there the prices and options of the offers in Cochin Airport and neighboring locations. You can also choose a car with an automatic or manual transmission.
FAQ - SS TRAVELS car rental in Cochin
How to find a cheap car rental from SS Travels in COK Airport, India?
You know that the combination of affordable prices and high-quality service is the key to an excellent car rental. With SS Travels in Cochin COK Airport, you can expect an affordable price that will be accompanied by many positive points. A large selection of discount cars, a friendly atmosphere, fast work, and outstanding customer support are iconic features of SS Travels.
The company strives to make the car rental process easy and understandable for each customer, while constantly pays attention to the maintenance of a high level in everything. As a result, you will enjoy these benefits each time you pick up a car in Cochin Airport.
SS Travels car prices are among the most competitive in the vehicle rental market and will satisfy even the most budget renters. Subsequently, in Cochin you always receive a 100% ideal car at an affordable rate.
Of course, there are always additional ways to rent a car, saving extra money. The following essential tips are the step towards the best-priced vehicle:
book a car as early as possible - the optimal time is not less than 1-2 weeks before the pickup;
take advantage of long-term deals - each day will cost cheaper;
check prices on rental cars in surrounding locations;
select a vehicle according to your desires, but keep in mind that compact and economy vehicles are the cheapest cars;
use full-to-full option for fuel usage;
select the most cost-effective insurance protection package;
avoid one-way journeys;
try to find discounts and promotions;
How to get to SS Travels car rental in COK Airport, India?
After arriving in Cochin COK Airport, the process of finding a SS Travels location won't be very tiring. It's situated at the airport terminal. Its exact address is Kerala Airport - COK. You will easily find the SS Travels rental desk by following the directions in the Cochin Airport.
If you have any questions, then you always have the opportunity to contact the local office via SS Travels phone number: 09652525269.
Those travelers who arrive in Cochin during the night hours shouldn't worry, as the agency's airport point is usually open 24 hours per day.
What is the cheapest rental car from SS Travels in COK Airport, India?
Whether your aim is a budget-friendly rental car, with SS Travels you are guaranteed to receive the cheapest deals. The supplier is ready to meet the consumer by offering quality cars at the lowest price.
The most beneficial deal in Cochin COK Airport is the Tata Indica or similar for £31 per day.
Remember that the total price for SS Travels vehicles can be further reduced in the case of long-term rental.
What is the most popular car class from SS Travels in Cochin Airport?
A wide SS Travels vehicle fleet means you'll definitely reserve a car rental class you like the most.
Car type is considered to be a dominant criterion when choosing a vehicle for travel. That's why the suppliers have a huge range of offers to suit any purposes. SS Travels in Cochin is ready to provide a Economy, Intermediate, Standard and SUV car. The most popular vehicle classes are:
Intermediate - Skoda Octavia or similar from £0 per day
Suv - Chevrolet Trailblazer or similar from £60 per day
How old do I have to be to pick up SS Travels rental car in COK Airport, India?
As stated by SS Travels policy, the lowest age limit for car hire services in the USA and Canada is 20 years old. However, this doesn't apply to all locations within the states of Michigan and New York, where 18- and 19-year-old renters can also enjoy the service.
Each young driver who is under 25 years old is subject to an underage fee. This payment should be made in the company's office. If traveling on military or government orders, then you are authorized to rent a car starting from the age of 18 and avoid additional age surcharges at the same time.
Can I pay for SS Travels rental car with a debit card in Cochin COK Airport?
In general, a debit card can only be used as a source of payment for a car rental in Cochin Airport. The fact is that when arriving at the counter, SS Travels requires a security deposit, which is available only on the customer's credit card.
Moreover, the name on the credit card must be the same as the name of the renter. A deposit is required by the company to recover possible expenses related to damage, fines or other charges caused by the fault of the driver.
Can someone else drive my rental car in Cochin ?
You will be happy to discover that an additional driver option is a way to let another person getting behind the steering wheel of your rental vehicle. Although sometimes companies offer a free additional driver, most often it costs money – the option is paid directly at the counter.
It's possible to get several free extra drivers at once when making a reservation.
Should I buy extra insurance along with SS Travels car rental in COK Airport, India?
Each supplier wants to be financially secure. Therefore, car hire is available only with valid insurance. If you don't have it, then SS Travels has a reason to refuse you.
There are several cases when you don't need an insurance protection plan:
you already have the initial coverage that applies to international pickups, and the type/class of car you select;
your credit card manufacturer has an extra insurance option, which covers you and rental cars abroad.
If you don't fall under any of the items, then obtaining any type of protection is the only solution. You can buy Excess fee insurance at the stage of reservation on our website and secure your deposit. Or, you can buy Full coverage insurance or Excess reduction at the SS Travels rental counter.