Cheap prices from over 900 car rental suppliers
See all
Car hire in
Car hire offers available in , Latvia
The process of finding your perfect vehicle for hire is fast and easy on our website. Compact, mini, economy, convertible, 7-seater, luxury car, or SUV - the list of available offers in each car hire class is impressive. Plus, reasonable prices and a powerful search engine are other reasons to hire a car with us in , Latvia.
Need to book a car hire as soon as possible? No problems. A great selection of deals of various price ranges is at your disposal:
Best cars hire in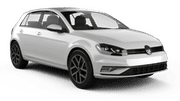 Volkswagen Passat
Standard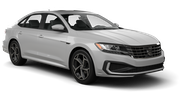 Free additional driver
Collision Damage Waiver

Volkswagen Jetta
Intermediate
Mileage: Unlimited
Collision Damage Waiver

Volkswagen Caravelle
9 seat people carrier
Mileage: Unlimited
Free additional driver
Collision Damage Waiver

Volkswagen Multivan
7 seat people carrier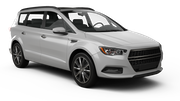 Mileage: Unlimited
Free additional driver
Collision Damage Waiver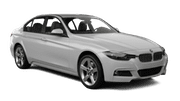 Free additional driver
Collision Damage Waiver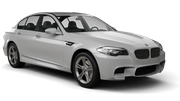 Car hire locations near
If necessary, you can pick up a car at one of the surrounding spots. They include city centre car hire locations, offices near train stations, and counters within the airports.
Keep in mind that a particular car hire may have different prices in several locations, thereby allowing you to save money by finding the lowest price. As a rule, in an off-airport pickup spot, it's possible to hire a car at the lowest rate due to absence of airport tax. However, at the same time, the fleet of vehicles at the airport is greater, which expands your travel capabilities.
Compare deals in nearby locations to , Latvia before making your final choice
Nearby car hire locations at airports
Nearby downtown car hire locations
Map of car hire locations near , Latvia
Want to hire a car in a different spot? To find the desired car hire location near , Latvia effortlessly, you can check the pickup spot map of the surrounding area. This will allow you to get the vehicle exactly where you need it.
Click on the location that is of interest for you to view its contact details, including address, phone number, and approximate distance from , Latvia.
How much will it cost to rent a car at
Despite a large number of factors influencing the price, the average rate of car hire in , Latvia is £45 per day. Car hire prices can be lower in the low season and, accordingly, they can rise during the high season.
In the table below you will find the approximate prices for various vehicle classes from car hire companies presented in , Latvia:
| Vendors | Economy | Compact | Standard | Full Size | Luxury | Van |
| --- | --- | --- | --- | --- | --- | --- |
| | from $26.17 | from $34.58 | from $42.54 | from $90.42 | from $104.70 | from $57.94 |
Use our search form to get the accurate car hire prices for your rental span in , Latvia.
What is the cheapest car hire in , Latvia?
The cheapest car hire deals in , Latvia are provided by SIXT . They offer Economy Opel Corsa at a price of £19 per day.
The precise address of this car hire company is Kleistu iela 31, Riga, 1067. You can hire not only economy and mid-size vehicles, but also compact, full-size, SUVs, and premium cars for any purpose and taste from SIXT on our website.
Which car hire I can rent at , Latvia
Do you want to hire a 7-seater for the whole family or a fuel-efficient compact vehicle? Maybe, only a premium automobile is able to satisfy your ambitions? No problems! When choosing a car class to hire in , Latvia, keep an eye out for the number of passenger seats, type of gearbox, and boot size. The following categories of vehicles will fit your any purpose:
MINI - Hyundai i10, Fiat 500, Toyota Aygo, Chevrolet Spark, or similar.
ECONOMY - Hyundai i20, Opel Corsa, Ford Fiesta, Citroen C3, Volkswagen Polo, Audi A1, Mini Cooper, or similar.
COMPACT - Ford Focus, Opel Astra, Citroen C4 Cactus, Fiat Tipo, Volkswagen Golf, Seat Leon, Kia Ceed, Hyundai i30, Peugeot 308, Volvo V40, BMW 1 Series, Mercedes A Class, or similar.
STANDARD - Opel Insignia, Skoda Superb, BMW 5 Series, or similar.
INTERMEDIATE - Volkswagen Jetta, Skoda Octavia, Citroen C4 Picasso, Kia Sportage, or similar.
7-SEATER - Volkswagen Touran, Citroen C4 Grand Picasso, Volkswagen Sharan, Ford Galaxy, Seat Alhambra, Opel Zafira, Peugeot 5008, or similar.
9-SEATER - Volkswagen Transporter, Mercedes Vito Traveliner, Ford Transit, Ford Tourneo, or similar.
FULL SIZE - Mercedes C Class, BMW 3 Series, Chrysler 200, Toyota Camry, or similar.
SUV - Volvo XC60, BMW X1, Mitsubishi Outlander, Peugeot 3008, Toyota Rav4, Nissan Pathfinder, BMW X5, Range Rover Sport, Mercedes GLE, or similar.
LUXURY - Mercedes E Class, BMW 5 Series, or similar.
CONVERTIBLE - Fiat 500 Convertible, BMW 2 Series Convertible, Mini Cooper Convertible, BMW 4 Series Convertible, Mercedes C Class Convertible, or similar.
CARGO VAN - Volkswagen Caddy Combo Van, Ford Transit SWB Van, Ford Luton Box Tail Lift 3.5T, or similar.
Visit the pages below for more information about the desired car class for hire in , Latvia.
Car hire vendors in , Latvia
How to hire a car in , Latvia
What do you need to hire a car in , Latvia?
In order to book a car in , Latvia on our website you need:
to be at least 19 (sometimes even 18 is enough) years of age;
to pay for your reservation with any type of bank card with enough money.
After you made a reservation on Rental24.co.uk, you need to prepare and bring to the rental desk the following documents:
A printed car hire voucher as a proof of your booking at Rental24.co.uk.
A full driving licence held for a minimum of 1 year. UK licence holders need to present the photocard.
International Driving Permit if required by your selected car hire provider in , Latvia.
A valid passport or national ID with photo.
A credit card (or debit card if accepted by your selected car hire supplier) in the name of the main driver with enough funds to cover a deposit.
How to get cheap car hire in , Latvia?
Reasonable price is what almost every renter wants to get. Read our tips to learn how to hire a car in , Latvia cheaper:
Book your vehicle as early as possible. Your car hire may cost less if you book it 7-10 days prior to the journey.
Plan to start your trip on a weekday. This will allow you to reduce the daily cost of a vehicle.
Travel as long as possible. As a rule, the longer the period of rental, the lower the price of each day. Consequently, the total cost of a 7-day car hire may be lower than what you pay for 5-6 days.
Benefit from a small car. Obviously, the smaller the vehicle, the cheaper it is. Plus, you can further save on fuel.
Pick up and return the car in the same location. One-way car hire is not considered to be a budget-friendly option, so avoid it if possible.
Look for special offers. Discounts and promotions from car hire companies in , Latvia will help to reserve a car up to 20% cheaper.
Which car hire class is the most popular in , Latvia?
Most often, travellers hire Economy cars in , Latvia. The Economy car rate starts from £19 per day. The cheapest vehicle of this size is Volkswagen Polo or similar or similar provided by BUDGET in , Latvia.
How to hire a car without a credit card in , Latvia?
You can pay for your reservation with a debit card or any other bank card on our website. But car rental deposit is the only obstacle that may not allow you to pick up a car without a credit card.
Companies need a financial guarantee of driver liability for damages, fines and possible penalties that are not covered by insurance. This is a certain amount of money which is part of the credit limit of a bank card. Accordingly, it can be blocked on a credit card.
Fortunately, on Rental24.co.uk, you can find some car hire companies that allow you to pre-authorize a deposit with a debit card in the name of the main driver. Some restrictions may apply, so attentively read the rental conditions.
How to get car hire with free additional driver in , Latvia?
You may have one or several people at once except you who can drive your vehicle. Each additional driver must meet the same requirements as the main driver and have a driver's licence and a passport.
Usually, the cost of an extra driver is approximately $10 per day in , Latvia, but with our search engine, you can find car hire suppliers that offer additional driver options free of charge.
What insurance do I need to hire a car in , Latvia?
CDW/LDW insurance will protect your car from damage and theft. It has a certain excess limit which shows the amount with which your responsibility begins. This type of insurance is usually included in the price of car hire on our website.
PAI/PEC package is needed to reimburse expenses associated with obtaining medical care by the driver or passengers.
Another must-have protection is SLI. It cancels your liability in case of property damage/personal injury caused to third parties.
All events that are not covered by insurance are usually within a deposit amount. Therefore, you don't need to worry about anything, but enjoy your trip!
If you want to fully protect your car hire, full insurance is the only way to avoid any further expenses. You can purchase it during pick-up at the rental desk.
What fuel policy to choose in , Latvia?
The type of fuel policy shows how you will refuel your vehicle. If you don't want to spend time at a petrol station and devote all your free time visiting sights and entertainment venues - choose prepaid fuel.
However, a more preferred option is the "full-to-full" (pick up full, return full) option. This means you collect a vehicle with a full tank of fuel, and you must drop it off with the same amount of fuel. Before returning the car in , Latvia, you will need to visit a petrol station to refuel the tank of your rental car.
How to pick up car hire in , Latvia?
A car hire pickup is a very responsible procedure, because any problems on your part may force the company to cancel the deal, which will completely ruin your upcoming trip. To prevent this, follow a few important tips:
Prepare all necessary documents to pick up your car hire in , Latvia.
If you want to have a free additional driver, the same paper set must be provided by each extra driver.
Make sure your credit card expiration date is at least 6 months after the end of your rental period and the credit limit is enough to cover the deposit.
Try not to be late for pickup. If your plane is delayed, notify the car hire company.
Carefully study the contract, and if required, specify the details that you don't understand.
Before you collect your car hire, make sure that the model meets the declared specifications.
Examine the car for scratches. If present, take photos and ask the employee to mention them.
Check that the amount of fuel in the tank is in accordance with the chosen fuel policy.
How to drop off car hire in , Latvia?
Easy car hire return to , Latvia is exactly what you need after an exhausting trip. How to make it as quick and trouble-free as possible? Just check out a few tips:
Always keep in mind the exact car drop-off time. Estimate the approximate time necessary to reach the return place, taking into consideration possible traffic jams.
Don't be late. Otherwise, you risk paying for the next rental day.
Don't forget to refuel your car on your way to drop-off point and don't lose the receipt.
Maintain your car clean or you will have to pay for returning a dirty vehicle.
Make sure that the necessary documents are with you.
Don't leave personal items inside the vehicle.
After arriving at the spot, inform the company that you are ready to return car hire.
Pass the keys to the provider's employee or simply leave it in the place agreed in advance.