Get the best deals on SUV car hire in Cancun, Mexico
Rental24.co.uk is the perfect place to book a reliable and cheap SUV car hire in Cancun, Mexico. Working with large international companies and smaller local agencies, we offer well-maintained, clean, and comfortable autos. Moreover, you can enjoy high-quality service at a discount price. As a result, you get an excellent set of wheels for an unforgettable leisure or business ride.
The first step in planning a road trip is choosing the ideal vehicle. in Cancun, Mexico, you get access to affordable car hire deals from the following groups: Economy, Van, Minivan, SUV, 6 seater, 7 seater, 8 seater, 9 seater, 10 seater, and 12 seater. The cheapest SUV for rent in Cancun, Mexico is available for £17 per day from AMERICA. However, subject to fluctuations in demand, the average price is £70 per day. Fill out the search form at the top of the page to check the full list of available offers, and use smart filters to find the suitable deal faster. Also, don't forget to compare similar cars from different agencies.
If you need the best price car hire in Cancun, Mexico, browse the list of cheap SUV deals below. Scrutinise their main technical specifications, including passenger and baggage capacity and the options included in the total daily price. Then, you can click on the desired offer to start booking immediately.
SUV hire cars in Cancun and other relevant vehicles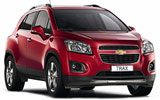 Unlimited mileage
Airport fee
Volkswagen Taos
Medium SUV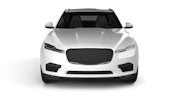 Unlimited mileage
Airport fee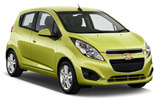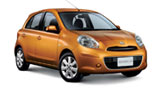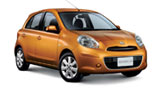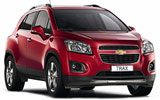 Nissan Xtrail 3 Row
Compact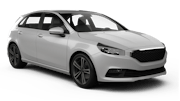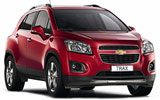 Unlimited mileage
Airport fee
Unlimited mileage
Airport fee
Ford Expedition
Large SUV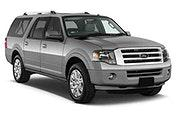 Unlimited mileage
Airport fee
Renault Duster
Medium SUV
Nissan Tiida Sedan
Intermediate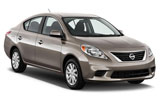 Volkswagen Jetta
Intermediate
Unlimited mileage
Airport fee
BMW 3 Series
Intermediate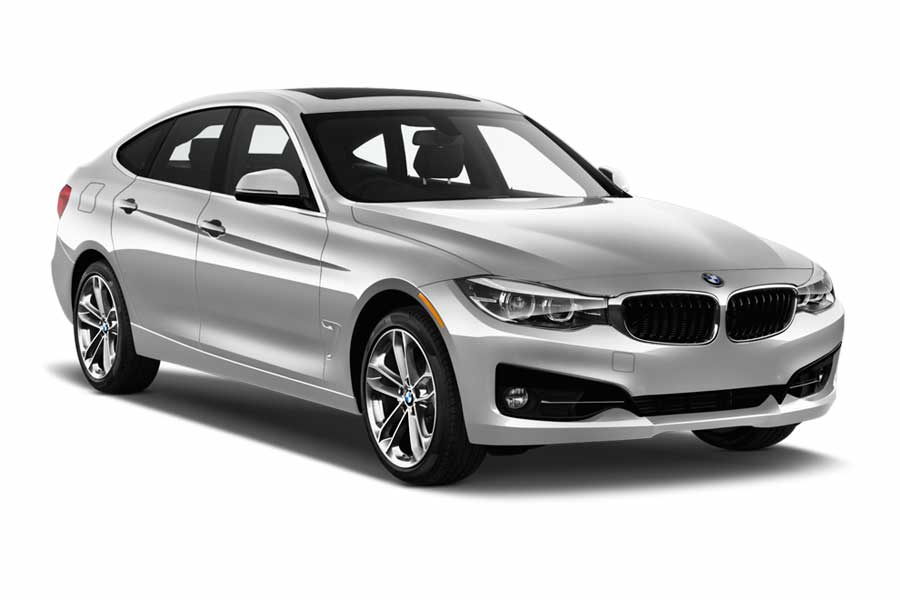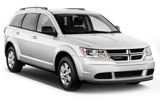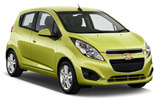 Unlimited mileage
Airport fee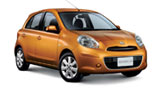 Unlimited mileage
Airport fee
Mitsubishi Mirage
Economy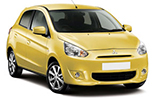 Unlimited mileage
Airport fee
SUV hire cars in
Cancun Hotel Hyatt Regency

and other relevant vehicles

Chevrolet Malibu
Intermediate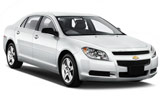 Chrysler Town and Country
7 seat people carrier
Ford Clubwagon
9 seat people carrier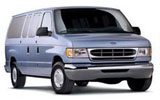 What is SUV car hire?
Sport Utility Vehicle (SUV) is a perfect choice if you need a spacious car for comfortable travelling on rural roads, as well as smooth driving on motorways.
Hiring a SUV in Cancun, Mexico, you get a multifunctional all-terrain vehicle good for short weekend trips and for distant journeys. Such vehicles have a large boot and compartment that can fit up to 5 people. Most of the SUVs are all-wheel drive, which provides them with a good cross-country ability; however, it's often the reason for high car hire price and high fuel consumption.
If you are hiring a car for country roads, you should be careful because SUV cars have a high centre of gravity which makes them more likely to topple over.
With Rental24.co.uk, you can hire such SUVs: Toyota Rav4, Nissan X-Trail, BMW X3, Mercedes-Benz GLE, Peugeot 2008, Nissan Qashqai, Volvo XC60, Honda CR-V, Nissan Pathfinder, Hyundai Tucson, Volkswagen Tiguan, GMC Acadia, Jeep Cherokee, Jeep Wrangler, etc.
How much does it cost to hire SUV cars in Cancun, Mexico?
The average cost of SUV car hire in Cancun, Mexico is £70 per day. In fact, the prices vary from 17 to 168 for a day.
Keep in mind that the cost may change under secondary factors. Consider all the price deciders in the following list:
Equipment included in the vehicle
Mileage policy and insurance type
Specific location
Current demand and availability
Trip duration
Want to monitor the exact SUV car hire prices for your desired dates? Please fill out the search form on our website!
Why selecting SUV cars for Cancun, Mexico?
The wonderful city of Cancun, Mexico invites you to a world of adventure! And driving is the most amazing way to experience it at its best. When you rent SUV car, hundreds of travel options open up ahead of you. You can travel at your own pace and visit your favourite places in any weather.
Start the engine, relax, and plan your dream route. An SUV auto guarantees a comfortable cabin and enough rear luggage space. Plus, your ride will be under the control of smart security systems available in every automobile.
If you want to enjoy a ride on country roads, you can rent a car from the SUV class. Increased ground clearance, all-wheel drive, and outstanding towing ability make this vehicle a great choice for camping, touring, and other outdoor adventures. A high seating position and a spacious interior are also characteristic advantages of these autos. You can choose Chevrolet Trax, Kia Sportage, Jeep Patriot, and Volkswagen Taos or an identical model as an SUV car for rent.
Should I hire SUV cars with Rental24.co.uk?
At Rental24.co.uk, travellers benefit from a large selection of models and a smooth booking process. We offer autos from the SUV car hire type in Cancun, Mexico and guarantee you a hassle-free trip.
With a focus on reliability, comfort, and affordability, our team goes above and beyond to secure you a successful ride. Therefore, as a customer, you enjoy the benefits and relax in anticipation of an exciting road adventure.
Your ideal SUV car is waiting for you on our website. Choose the sufficient deal from the desirable company and take the first step into a new travel experience.
Which car hire company is the best to rent SUV in Cancun, Mexico?
SUV car hire in Cancun, Mexico is a splendid way to get around the city in a comfortable setting and enjoy free route planning. You get a large range of models for any purpose and at different prices. And when it comes to choosing a company, each agency does its best to satisfy the customer. in Cancun, Mexico you can find such car rental agencies: Alamo, Europcar, Thrifty, America, Budget, and Dollar.
You can find the best car hire company in Cancun, Mexico by checking the following table. For your convenience, we have provided company ratings based on customer reviews. These ratings show the vendors' key characteristics in terms of value for money, automobile cleanliness, and pick-up/drop-off service.
According to ratings among SUV cars providers in Cancun, Mexico, the first-rate company is Thrifty Direct, which has won the hearts of customers with a large selection of models and low prices.
The second line is occupied by ALAMO ehi with cheap additional options and convenient collection points.
Dollar completes the top-3 list and offers many benefits, such as unlimited miles and a wide SUV vehicle fleet.
Where to rent SUV car in Cancun, Mexico?
Finding the finest Cancun, Mexico SUV car hire location is easy with Rental24.co.uk. Go through the table with all available pick-up points situated at airports, railway stations, and city centre, and opt for the ideal locations to start your trip. You can compare analogous SUV car hire services in nearby spots and opt for the desired location to continue booking there.
Nearby car hire locations at airports
Nearby downtown car hire locations
Cancun Hotel Hyatt Regency




Cancun Four Points Sheraton Hotel


1.15 km / 0.72 mi

Cancun Condominuim Salvia


3.19 km / 1.98 mi
Cancun Downtown South
4.09 km / 2.54 mi

Cancun Plaza Caribe


4.14 km / 2.57 mi

Cancun La Isla


6.69 km / 4.16 mi

Quintana Roo Puerto Morelos


7.27 km / 4.51 mi

Cancun Hacienda Estefania


7.45 km / 4.63 mi

Cancun Hotel Dream Sands


7.46 km / 4.64 mi
Cancun Hotel Presidente


7.5 km / 4.66 mi

Cancun Secrets The Vine


7.61 km / 4.73 mi

7.68 km / 4.77 mi

Cancun Playa Blanca


8 km / 4.97 mi

Cancun Plaza Royal


8.06 km / 5.01 mi

Cancun Hotel Area


8.34 km / 5.18 mi

Cancun Convention Center


8.75 km / 5.44 mi

Cancun Hotel Nh Krystal


9.05 km / 5.62 mi
Cancun Plaza Mexicana


10.61 km / 6.59 mi

Cancun Hotel Playa Mujeres


13.05 km / 8.11 mi

Cancun Secrets Silver Sands Hotel


26.08 km / 16.2 mi

Puerto Morelos Roo Hotel Now Saphhire


28.52 km / 17.72 mi

Puerto Morelos Roo Hotel Now Jade


32.38 km / 20.12 mi

Puerto Morelos


32.47 km / 20.17 mi

Cancun Hotel El Dorado Royal


39.55 km / 24.58 mi

Playa Del Carmen Hotel Secrets Maroma


45.79 km / 28.45 mi
Map of the nearest SUV car rentals to Cancun, Mexico
Rental companies offer several pick-up and drop-off points within Cancun, Mexico. Thus, it may be difficult for you to find the nearest car hire to my location. For easier searching and a better visual experience, use the Google Map service which shows all available collection spots.
SUV car hire Cancun, Mexico reviews on Rental24.co.uk
Thousand reviews of SUV car hire say Rental24.co.uk is the perfect place to book. For proof, you can choose any video review from our customers below, and see the quality of the service with your own eyes. So, there's no need to hesitate - scroll up to the search form and find an excellent rental on our platform.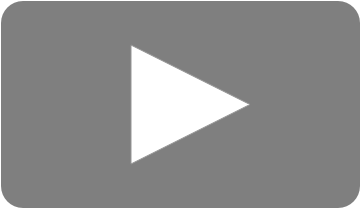 🇪🇸 WIBER Car Rental at Malaga Airport [AGP], Spain - Review of Rental24h.com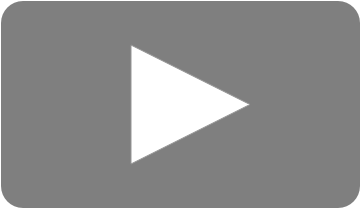 🇩🇴 EUROPCAR Car Rental in Santo Domingo Airport [SDQ], Dominican Republic - Review of Rental24h.com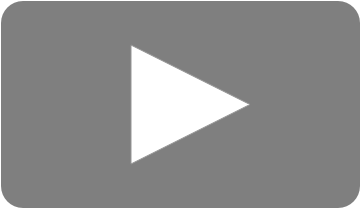 🇧🇶 CarVenience Car Rental at Kralendijk - Flamingo Airport [BON], Bonaire - Review of Rental24h.com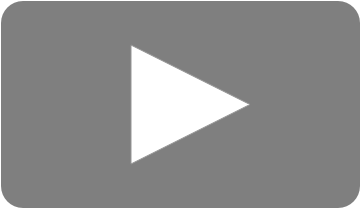 🇨🇿 Budget Car Rental at Prague Airport [PRG], Czech Republic - Review of Rental24h.com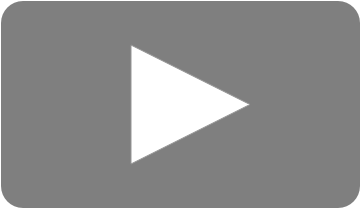 🇭🇺 GAME Car Rental at Budapest Airport [BUD], Hungary - Review of Rental24h.com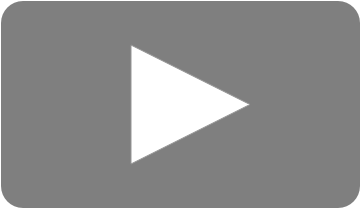 🇮🇹 TargetRent Car Rental at Venice Marco Polo Intl Airport [VCE], Italy - Review of Rental24h.com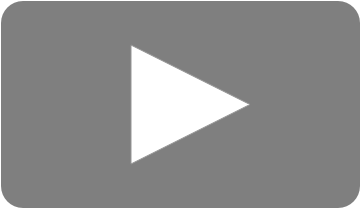 🇺🇸 Enterprise Car Rental at Reno-Tahoe International Airport [RNO], NV - Review of Rental24h.com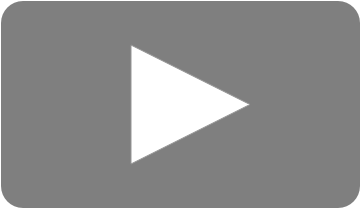 🇺🇸 Dollar Car Rental at Charleston Airport [CHS], SC - Review of Rental24h.com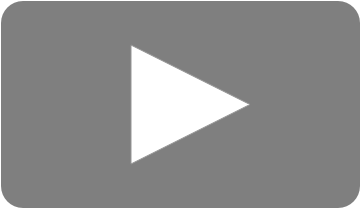 🇺🇸 Dollar Car Rental at Seattle-Tacoma International Airport [SEA], USA - Review of Rental24h.com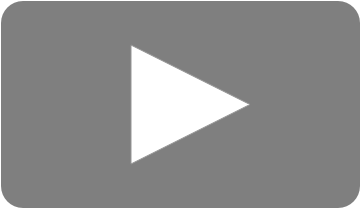 🇺🇸 Thrifty Car Rental in Washington DC Reagan Airport [DCA], USA - Review of Rental24h.com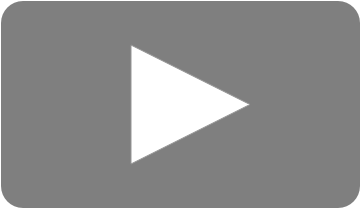 🇪🇸 GOLDCAR Car Rental in Barcelona – El Prat Airport [BCN], Spain - Review of Rental24h.com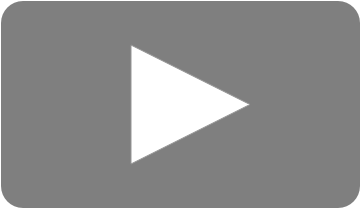 🇬🇷 AutoUnion Car Rental in Preveza - Aktion Intl. Airport [PVK], Greece - Review of Rental24h.com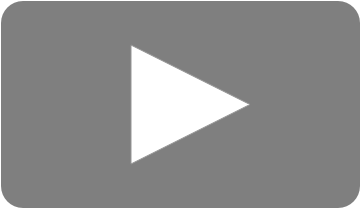 🇺🇸 ALAMO Car Rental in San Francisco Airport [SFO], USA - Review of Rental24h.com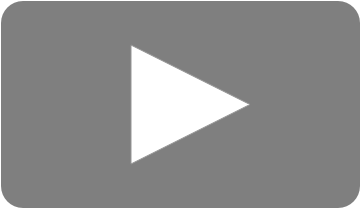 🇺🇸 FOX Rent A Car Rental in San Diego Airport [SAN], USA - Review of Rental24h.com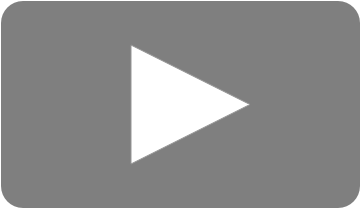 🇨🇦 Zoom Rent a Car Car Rental in Toronto Pearson Intl Airport [YYZ], Canada - Review of Rental24h.com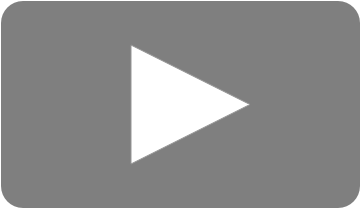 🇺🇸 Review of Rental24h.com: FOX Rent A Car Car Rental in Miami International Airport [MIA], USA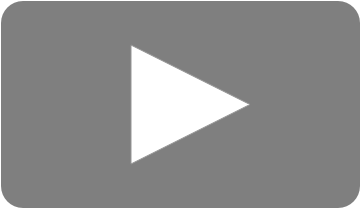 🇳🇿 Snap Rentals Car Rental in Queenstown Airport [ZQN], New Zealand - Review of Rental24h.com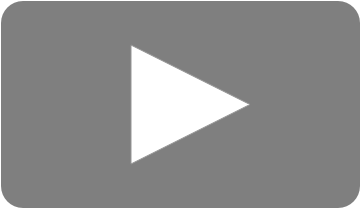 🇺🇸 THRIFTY Car Rental at Denver International Airport [DEN], USA - Review of Rental24h.com
FAQ - hire SUV cars in Cancun, Mexico
How to rent SUV car class in Cancun, Mexico?
You must book a car and then show up at the counter at the specified time to pick it up. Also, prepare all the necessary documents and provide them to the employee present. The list of documents needed to rent an SUV car in Cancun, Mexico includes:
A full driving licence, which you have held for a minimum of 1 year
International Driving Permit (IDP) if your original licence is not in English
A printed confirmation voucher sent to your email upon completion of the booking
A valid photo ID, such as a passport or national ID
A credit or debit card as an acceptable payment method
According to car hire requirements in Cancun, Mexico, UK licence holders require a photocard. On top of that, an IDP must be provided along with a domestic licence. Don't forget to verify if your bank card has enough balance to pay the full reservation cost and authorise the security deposit.
What is the cheapest way to hire a car in Cancun, Mexico?
You can rent SUV for cheap using two simple rules. The first is to book at Rental24.co.uk and the second is to follow the tips below:
Book early as the best deals appear 2-4 weeks before the pick-up date
Plan the first day of your trip on a weekday when rates drop
Reserve for at least 7 days, which is the minimum period for applying discount rates
Look for Cancun, Mexico SUV car hire in nearby locations to find the optimum price
Compare deals from different companies for greater financial gain
Select deals with the full-to-full fuel option to avoid overpaying on fuel
If possible, avoid one-way travel and border crossings to save money
Check the promotions and discounts available on the vendor's website
Which SUV car hire companies are on-site in Cancun, Mexico?
The following vendors provide car hire on site in Cancun, Mexico: AMERICA, ALAMO, EUROPCAR If you can't find the supplier you want on this list, they may have offices outside the terminal and provide a shuttle service to/from their location.
Do you know the car rental group codes for SUV?
For a clearer car classification, companies use the ACRISS car rental code system. These car hire group codes consist of four capital letters and represent an auto's basic characteristics. As a result, customers can determine which deal to pick up and what they get in the end. Consider what each letter means in the ACRISS code:
The 1st letter characterises a vehicle group like SUV, Luxury, etc.
The 2nd letter indicates the type of car, such as a convertible or 5-door sedan.
The 3rd letter represents the type of transmission and drive - automatic or manual, 2WD or 4WD.
The 4th letter refers to the special equipment on board, like air conditioning, and the type of fuel used.
What does 'or similar' mean in car hire?
Due to the large volume of cars rented to travellers, it would be difficult for vendors to provide a particular model. To facilitate service, they have made certain models interchangeable. Therefore, when booking, you may not receive an exact automobile, but an identical model in size, type, transmission, and equipment. That is why companies indicate 'SUV car hire or similar' on the booking page.
Does my car insurance cover rental cars in Cancun, Mexico?
You can use personal car insurance for private hire with the same limits and deductibles. Still, you should check whether your auto policy covers driving abroad. Vendors provide basic insurance by default, which includes damage cover, theft cover, and third-party cover. Moreover, you can purchase an additional or full protection plan. One more alternative is to take advantage of the insurance that comes with your credit card.
Can I rent a particular SUV car model in Cancun, Mexico?
As a rule, if the car rental companies in Cancun, Mexico are not able to provide you with a specific car model, they offer only similar vehicles of a definite group or class. That's why we'd like to help you by providing the maximum information on the various car groups. If you need to rent a specific car model, look for the offers with a sign "Guaranteed car model" near the image of the car.
The minimum age to hire a car in Cancun, Mexico is 20 years old, but carefully check the car hire conditions to figure out the minimum age to hire an SUV. By the way, if a company hires SUVs to drivers under 25, an additional young driver fee is charged.