12 seater car hire near Changuinola - Hotel Semiramis
Compare 12 seater car hire in Changuinola - Hotel Semiramis, Panama prices from the best car hire companies. With our service, you will easily find the best 12 seater hire car rate and deal for you.
Below are the lists of 12 seater vehicles, available for hire in Changuinola - Hotel Semiramis, Panama, as well as nearby locations. These lists contain the models and basic characteristics of cars, as well as their approximate prices. To learn about the precise prices and availability of vehicles for the required dates, please, fill in the dates of the beginning and the end of your car hire in the search form above and press the "Search" button, or just press "Rent a car" button below the image of the vehicle you prefer.
12 seater hire cars in
Changuinola - Hotel Semiramis

and other relevant vehicles

Unlimited mileage
Airport fee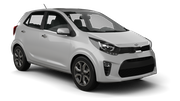 Unlimited mileage
Airport fee
Hyundai Grand i10
Compact
Unlimited mileage
Airport fee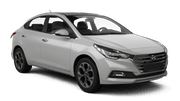 Unlimited mileage
Airport fee
Presented lists contain the data obtained by our search engine from the previous car hire requests in Changuinola - Hotel Semiramis, Panama and nearby locations. Since the prices depend on the season of car hire, the actual 12 seater hire prices on the requested date may be different from the presented ones.
What is 12-seater car hire?
A 12-seater is a spacious minivan aimed for transportation of big families or groups of up to 12 people with large amounts of luggage. 12 seat people carriers usually have sliding doors, and a large luggage compartment, which can be increased due to transformation of the passenger seats.
The same model of 12-seater may be assigned to 10-, 11-, and 12-seater minivans at a time.
Note! In some countries,it is required to have a category D driving licence to drive a 12-seater.
The most popular 12-seaters to hire are Ford Club Wagon, Chevrolet Express, Ford Econoline, Ford E350, Ford Transit, etc.
Map of car hire locations near Changuinola - Hotel Semiramis, Panama
All 12 seater car hire locations near Heathrow Airport were placed on a map. Use our map to find the cheapest car hire near me.
FAQ - hire 12 seater cars in Heathrow Airport
How to get a cheap 12 seater car hire in London Heathrow Airport?
The mixture of affordable car hire prices and good service is probably what you are searching for each time you hire a car. Rental24.co.uk is created to save you money on 12 seater vehicle class hire in Heathrow Airport.
So, what are the ways to get a cost-effective 12 seater deal at LHR Airport?
Book a car at least 7-10 days prior to the expected trip.
Reserve on weekdays to get lower car hire prices.
Consider a long-term car hire. Very often a weekly rental will be more profitable than reserving for 4-5 days.
Don't forget to look at surrounding pickup points, because the prices for the same 12 seater vehicles can vary seriously.
Compare offers from several companies at once so that your choice is the most profitable from a financial point of view.
Choose a deal with a pickup full, return full (full-to-full) fuel option to pay only for the petrol you consumed.
Keep away from one-way deals and border crossings.
Check discounted rates. They may allow you to receive the desired 12 seater vehicle 10-20% cheaper in LHR Airport.
What 12 seater cars I can hire at Heathrow Airport?
Rental24.co.uk will 100% find your best car hire company and model because it cooperates with all providers available in Heathrow Airport. This means a complete list of vehicles to rent is always before your eyes.
Don't forget that when booking in advance, you will get access to a bigger range of cars for hire, and their prices will please you.
How much to hire a 12 seater car at London Heathrow Airport?
Is a vehicle with the lowest price a decisive argument for your holiday trip? The price of 12 seater car hire starts from just £12 for a day in London Airport.
What's more, the total price may be reduced with a long-term deal. You can hire a 12 seater car for £379 for a month at Heathrow Airport.
What do you need to hire 12 seater car at Heathrow Airport?
After making a booking on Rental24.co.uk, be sure to prepare and bring with you all the documents listed below to successfully pick up your car hire in London Airport. If you do not provide the required valid documents, the car hire agency may refuse to hire your 12 seater vehicle.
Don't forget to present upon arrival at the rental desk:
A printed version of your 12 seater car hire voucher.
A full driving licence held for a minimum of 1 year. UK licence holders also need to present the photocard.
International Driving Permit accompanied by the original domestic licence is constantly required. Read rental conditions to find out in which cases you do not need to provide IDP.
A valid photo ID (passport or national ID).
A credit card (or debit card if accepted) in the name of the main driver to authorise a deposit.
What is the best car rental company that provides 12 seater car rental in Changuinola - Hotel Semiramis, Panama?
Each company tries to do its best to make the customer satisfied and get a pleasant experience during a road trip. The total price, quality of service, cleanliness of the vehicle, impressions of the pick-up and drop-off processes - all this forms the rating of the vendor.
How old do you have to be to hire a car of 12 seater class in Changuinola - Hotel Semiramis, Panama?
The minimum age to hire a car in Changuinola - Hotel Semiramis, Panama is 20 years old, but most car hire companies do not provide 12 seaters to drivers under the age of 25. Sometimes a driver must be at least 26 or even 28 to be able to hire a 12 seat people carrier.
You should always check the exact age requirements in the "Important Information" of a specific 12 seater model in Changuinola - Hotel Semiramis, Panama.
How to hire a 12 seater car without a credit card at Heathrow LHR Airport?
Some novice travellers consider the type of bank card is not an important aspect when you hire a car. To make a successful reservation of 12 seater vehicle, you can use any type of bank card.
However, using a debit card is refused by most providers, and you need a credit card in order to successfully pick up a 12 seater car in Heathrow Airport. Credit limit is used for a safety deposit. It allows companies to rely on compensation for damage caused to the car, fines for violation of traffic rules and other potential losses.
On our website, you can find a range of car hire companies that accept debit cards to hire 12 seater cars in Heathrow Airport. Just check the car hire conditions carefully.
Can someone else drive my 12 seater car hire in Heathrow Airport?
On a road trip, it is always very good to have someone who can replace you behind the steering wheel. Therefore, when booking your 12 seater vehicles, don't forget to include an Additional driver in the list of optional services.
An extra driver is fully authorized to drive a vehicle that is issued in the name of the main driver. The price of the option depends on the provider, and very often you can even enjoy our free additional driver options at Heathrow Airport.
What insurance do I need to hire 12 seater car at LHR Airport?
You should think about your insurance in advance. It will protect you from many unexpected situations on the road, while your provider will have no reason to refuse car hire.
The insurance protection covers your liability in excess of the deposit amount, so even in the event of a serious incident, you can rely on only minor expenses on your part.
It is always better to have additional insurance when picking up 12 seater vehicle at Heathrow Airport.