Renault car hire near
If you prefer Renault vehicles or know that the car with the characteristics you want is presented in the Renault range in , Turkey, start your search from this page. Select the dates you need in the search form or click on the image of the car hire that suits you below.
You will find the best car hire Renault in , Turkey. The rates of shown cars are based on previous searches. Renault hire cars are highlighted with an orange frame. You will find more up-to-date information by clicking on vehicles or by filling in the search form.
Renault hire cars in and other relevant vehicles

Renault Trafic
9 seat people carrier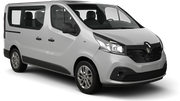 Renault Fluence
Intermediate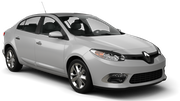 Fiat Doblo
5 seat people carrier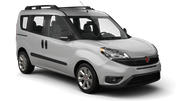 Dacia Logan MCV
7 seat people carrier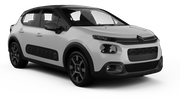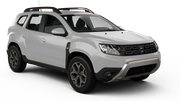 Why use Rental24H to hire Renault cars at , Turkey?
Renault today specializes in the production of cars and minibuses, which are excellent for family trips. Also, as it's known, the company participates in the production of heavy-duty vehicles such as trucks, road tankers and buses.
Renault's design follows three main concepts: simplicity, sensuality and warmth - also known as "cycle of life", which makes these vehicles even more recognizable and distinctive. The French government owns 15% in Renault shares.
Renault has an amazing racing history as it has a proven track record with both Formula 1 and rallying.
The Renault-Nissan Alliance is the fourth largest automobile group in the world.
Renault is called the "savior of France" for outstanding achievements in the development of military equipment during the First World War
Renault cares about everyone! Once in France lawyers tried to force parents of a little girl named Megan to change her name so that the baby wasn't ridiculed by peers. And all because the surname of the girl - Renault.
We provide a fast & easy search for your favorite Renault vehicles in , Turkey.
We offer multiple Renault car hire offers at reduced prices.
You can find full information about providers, car models, and car groups on Rental24.co.uk.
Our Renault vehicles in , Turkey are provided by only world-trusted and reliable car hire companies.
There are no hidden charges.
Our customer support operates 24/7 to help you with Renault car hire in , Turkey.
Map of car hire locations near , Turkey
FAQ - Renault car hire in , Turkey
Which car hire companies have Renault in , Turkey?
When inspecting the list of Renault vehicles in , Turkey, the choice of agency to deal with plays one of the most significant roles. A good supplier is a key to a trouble-free road trip, while a company with a bad reputation can ruin your holiday at all. We gather only reliable car hire companies, which will do their best to make your trip pleasant and easy.
Amongst those vendors who offer Renault vehicles at , Turkey, you will find only well-known leading brands, including Circular and.
What is the best car hire company that provides Renault in , Turkey?
Your Renault car hire experience at , Turkey is largely dependent on the particular provider. In accordance with thousands of positive customers' reviews, the following 3 car hire companies are the finest to pick up any Renault model:
Which Renault cars I can hire in , Turkey?
The list of Renault vehicles in this destination will satisfy the desires of any traveller. Cars of this manufacturer are offered in almost every class of cars, which eliminates the need to abandon your preferences.
The most popular Renault models presented at , Turkey are:
Global brand Renault is represented in 128 countries all over the world. Dacia is a regional brand which sells cars in 43 European countries, in North Africa and Turkey. The local brand RSM (Renault Samsung Motors) sells in South Korea.
3 famous brands and 40 models for drivers, business users, sportspeople and millions of consumers - that's Renault!
Book Renault rental cars which suit your personal requirements from the following list of groups and vehicles:
Economy cars are the best for budget-minded drivers and fuel-efficient trips.
Vehicle fleet: Renault Clio, Renault Captur
Standard / Intermediate car group is a perfect choice for long-distance journeys and bussiness trips as well.
Vehicle fleet: Renault Megane RS 265 Cup, Renault Fluence
Estate Renault cars are still the ultimate way to transport your family for holidays or for any other purpose which requires a comfortable car.
Vehicle fleet: Renault Clio Estate, Renault Megane Estate
SUVs are famous for their reliability and safety, they can transport you regargless of weather conditions or slippery and the rough roads.
Vehicle fleet: Renault Koleos, Dacia Duster
Convertibles are a perfect choice for those who love driving in style. Elegantly designed cabrio, the wind in your hair, 130 horsepowers - just imagine this journey!
Vehicle fleet: Renault Megane Convertible
Minivans for big company's adventures, for moving, for any other transportation...You can easily find them on Rental24H.
Vehicle fleet: Renault Scenic (5-seat), Renault Espace (7-seat), Renault Trafic (9-seat)
In the most cases you can order Renault car on Rental24H with both manual and automatic transmissions. In addition, most of the vehicles are equipped with air-conditioning and audio system.
How much to hire a Renault car in , Turkey?
By using our website, you can compare many parameters of available deals, including the price of car hire from different suppliers.
Therefore, the lowest price for car hire Renault at , Turkey is £100 per day for a Renault Trafic from circular.
Along with the cheapest car hire, you get a trusted provider with an impeccable reputation.
What is the most popular Renault car hire model in , Turkey?
The most frequently booked Renault model in , Turkey is Renault Trafic, which is a nice-looking and fairly roomy vehicle. You can hire it for £100 per day in , Turkey.
What is the most popular supplier of Renault car hire in , Turkey?
According to many reviews of our customers, Circular is a car hire company you can deal with without any doubt.
Along with excellent service, the Circular offers the most advantageous deals in , Turkey - Renault Trafic for £100 for a day.
How can I hire Renault car at , Turkey?
Most car hire companies don't guarantee you a specific Renault car model. They can guarantee you only a vehicle of a certain car hire class. All cars from the group you've chosen have approximately the same size and are similar in their technical characteristics.
Choosing a car marked "or similar" will get you a selected or similar vehicle. Thus, if you select a 5-seater with an automatic gearbox, you will get a car with an automatic transmission that can fit not less than 5 passengers.
In order to hire the exact car model, you have to look for offers with the "Guaranteed Car Model" inscription on the page with the results of your search in , Turkey. In the absence of such a sign, the company doesn't accept claims regarding the car that you get in the end.
How old do you have to be to hire Renault car at , Turkey?
If you want to drive a Renault car hire in , Turkey, you have to be at least 20 years old. For some car hire Renault classes, the minimum age to hire a car may be different.
When you are under 25 years of age, car hire companies will charge you an underage fee of about £15-30 per day depending on your age and car hire location. This additional under 25 surcharge must be paid during pick up at the counter in , Turkey.
How to get cheap Renault car hire in , Turkey?
There are several ways to work with a leading supplier and at the same time to save your money:
Reserve your Renault vehicle a minimum of 2-3 weeks prior to pick-up date;
Compare rates in , Turkey with the prices in the neighboring locations to find the best rate for a favorite Renault model;
Hire a car for a minimum of 7 consecutive days to get each separate rental day much cheaper;
Choose a car according to your needs;
Ask for full-to-full petrol option;
Use your domestic insurance or choose a reasonable package on our website;
Avoid one way car hire and border crossing;
Benefit from our coupon codes and additional discounts.
Which car hire companies accept debit cards to hire Renault at , Turkey?
You can always pay the cost of your Renault car hire with a debit card on our website, but almost every car hire provider requires a credit card deposit, which is needed to compensate Renault damage as a consequence of the driver's fault. Of course, it doesn't apply to items covered by insurance.
On our website, you can find a lot of car hire companies that accept debit cards to cover a deposit:
Alamo
Avis
Budget
Dollar
Enterprise
Hertz
National
Sixt
Attentively read the rental conditions to figure out how to hire Renault with a debit card in , Turkey. Each supplier may have additional requirements to do this.
What insurance do I need to hire Renault car at , Turkey?
Insurance is what all agencies require when you want to pick up a vehicle. It's a guarantee of coverage for all cases in which the vehicle, driver, passengers, or third parties were damaged or injured.
When booking a car hire Renault on our website, the price often includes a compulsory insurance package such as:
CDW - collision damage waiver - this is car hire insurance, which is required in 90% of cases. Without this insurance, car hire companies won't give you a vehicle. Therefore, this insurance is usually included in the car hire price and you can't refuse it.
TW - theft protection. Also, it is required in most cases and its cost is included in car hire price.
TP- insurance of your liability to third parties.
To hire a car abroad, you may use your personal protection or insurance that comes with your credit card. Just don't forget to clarify the possibility of its application in terms of international car hire.
You always have an opportunity to purchase full insurance from your selected car hire provider. Or, you can buy Excess car hire insurance on our website at the reservation stage.
Please, examine the car hire terms and conditions of a particular Renault car model to get maximum detailed information on insurance provided for it.
What is car hire Excess insurance?
Excess Fee is the amount of the deposit that will be blocked on your credit card in case of damage or theft of a car. If at the end of car hire nothing bad happens with a vehicle, the entire amount of the deposit will be returned to your credit card.
On the other hand, whatever happens to a car, the amount of the deposit is the maximum amount you risk. This is very convenient and allows you not to worry about hiring a car in , Turkey.
Some car hire companies allow you to reduce the amount of the deposit by paying some part of the cost of insurance (Complete cover package). In this case, the amount of excess fee can be reduced by 50%, and even 80% - for example, from £1000 to £500 or even to £200.
You always have an opportunity to purchase Excess insurance on our website at the reservation stage. This is a very convenient way to protect yourself from potential material losses. If you buy an Excess car hire insurance, in case of any problems with the car, our insurance company will refund the amount of Excess fee withheld with you by the car hire company.