Why hire a 9 seater in the United Kingdom?
Have you ever dreamed of taking your entire large family, relatives, or friends on a big trip to the UK? Edinburgh, Wales, Birmingham, Manchester... of course, it would be a very exciting adventure, but the fact that there are too many people and too few seats in a standard car probably stopped you.
Now, with 9 seat MPV hire, any group road trip is a reality. Multi-Purpose Vehicle or people carrier is usually a large hatchback with six or more seats. You don't need to endure the inconvenience of using public transport or hire several 4-seater vehicles at once. Just pick up a single massive, comfortable, and roomy people carrier that will provide enough space for each passenger, and accommodate all your personal belongings in the trunk.
But comfort is not the only reason to use a 9 seater self-drive hire – it's also beneficial in terms of budget. Modern minibuses are powered by high-tech engines, which are quite fuel-efficient despite their excellent dynamic characteristics. This means you won't visit the gas station often, spending money on fuel.
Find the best 9-passenger vehicle on Rental24.co.uk and you will truly appreciate the convenience of travelling in a big car. It will also allow you to gain new experiences and enjoy the time spent with your loved ones.
What benefits do you receive when you hire a 9 seater for a journey?
Plenty of headroom and legroom for each traveller
Enough luggage compartment space for bags and suitcases
An economical and nice-looking car to drive around
Ideal transport for large group trips
Wherever in the UK, you need a spacious people carrier, you can easily find one at Rental24.co.uk. By checking numerous offers from hundreds of companies, you can choose the best minibus hire for your needs at a budget price. A successful journey starts from the moment you take a seat in your hire car, and we will try to make your experience to be maximally positive.
What is a 9 seater car hire class?
It takes just three words to describe this class of car: large, roomy, and comfortable. 9 seat van hire is the only logical solution for a group trip and here's why:
It's hassle-free. Everyone will be in the same car, which means nobody gets lost along the way, as is often the case when using public transport.
It's cheap. You only need to refuel one 9 seater minibus hire. This is a more budget solution than refueling 2 cars, even if they are 4-seater compacts.
It's exciting. Agree, it's always fun to travel together rather than separately. You can have fun along the way and share your experiences at the same time.
We are ready to provide the best options if you need a car hire for 9 passengers. Money-saving standard minibuses include Ford Transit, Renault Traffic, or Citroen Jumpy. These cars meet all the requirements of this class but are distinguished by high fuel efficiency and practical interior.
Those accustomed to the improved travel experience will also find stylish luxury 9 seater car hire options. Such models as Mercedes Vito and Volkswagen Transporter will ensure you get the most out of your trip and provide incredible comfort on any type of road surface.
The large selection of vehicles available on our website is the best way to choose exactly what you want. Below you can check the popular 9 seater car hire vehicles we can offer you. But that's not all - fill out the search form to get more attractive deals!
Most Popular 9 Seater Car Hire Models in the UK
| | | | | | |
| --- | --- | --- | --- | --- | --- |
| | Mercedes Vito | 9 seat people carrier | 5 doors | 4 suitcases | 30 mpg |
| | Ford Transit Passenger van | 9 seat people carrier | 5 doors | 4 suitcases | 26 mpg |
| | Volkswagen Transporter | 9 seat people carrier | 5 doors | 4 suitcases | 27 mpg |
| | Ford Tourneo | 9 seat people carrier | 5 doors | 4 suitcases | 26 mpg |
| | Renault Trafic | 9 seat people carrier | 5 doors | 4 suitcases | 41 mpg |
| | Opel Vivaro | 9 seat people carrier | 5 doors | 4 suitcases | 22 mpg |
| | Citroen Jumpy | 9 seat people carrier | 5 doors | 4 suitcases | 26 mpg |
| | Peugeot Expert | 9 seat people carrier | 5 doors | 4 suitcases | 55 mpg |
| | Nissan Primastar | 9 seat people carrier | 5 doors | 4 suitcases | 32 mpg |
How much luggage fits in a 9 seat vehicle hire?
As expected, a larger vehicle has more space for bags and personal items. When you travel on a 9 seater minibus hire self-drive, rest assured that 4 large suitcases, or about 10-12 small bags, will easily fit in its trunk.
How many seats in 9 seater cars for hire?
Usually, car hire companies mean that a 9-seater vehicle features 9 seats, but sometimes only 8 adults can comfortably fit in the cabin due to the slightly smaller 3rd row of seats. If car hire for 9 people isn't enough for you, take advantage of a larger vehicle such as a 12-passenger van.
Where to get a 9 seater car hire in the UK?
Finding the right place to pick up a 9 seater hire UK and start your grandiose trip is essential. Based on this, you can plan your route in advance, which will greatly facilitate the entire journey.
At Rental24.co.uk, you will be happy to book a 9 seater hire car exactly where you need it in the country. We cover most airports, train stations, and downtown locations in both the most traveled destinations and less popular areas.
Even if you are looking for 9 seat minibus hire near me, you will surely be successful, as we are ready to provide you with a top-quality service in thousands of UK pickup spots.
Which car hire companies provide 9 seaters for hire in the UK?
When looking for the best 9 seater people carrier hire deal, you will have unlimited freedom of choice - dozens of companies operating in the UK have cars for 9 passengers in their fleet.
Whether you are used to working with large international rental brands or using the services of small local agencies, you will always find something to your taste and needs. Plus, at Rental24.co.uk, you can compare offers from different companies, thereby ensuring yourself the best deal.
If you still want to hire a 9 seater car from your favorite provider or the company you trust most, pick it from the following list:
How much to hire a 9 seater minibus in the UK?
On average, expect the price of about £70-80 per day. If you're lucky, you can find a really cheap 9 seater car hire at a daily rate of under £10. However, in a period of high demand, everything can be the other way around, and you have to pay £100 per day for the same vehicle.
In view of such a large difference, remember that seasonality, specific location, and also the company's pricing policy can significantly affect the final price tag, making it higher or lower.
Fortunately, there's a way to save money in any situation. We have prepared several solutions to get a 9 seater minibus hire self-drive UK at the lowest possible rate:
Reserve your car as early as possible. The closer the actual pick-up date is, the more intensively prices grow. This means that the best time to find the most affordable car is 7-10 days before the start of the trip.
Choose the right date for your journey. In most travel locations, car hire prices on weekends are much higher than on weekdays. Use this to your advantage to book the cheapest 9 seater car hire.
Look for a car in neighboring locations. Few people know that the airport is the worst place to hire a car in terms of cost. Benefit from the 9 seater car hire comparison in nearby pick-up points by prioritizing urban locations where prices tend to be more loyal.
Return the vehicle to its original pickup location. Choosing different pickup and drop off points can greatly expand the horizons of your road travel. But the high price of this option is a real drawback, and you need to forget about it in order to get an attractive offer.
Don't shorten your trip too much. It's self-deception when you decide to shorten your trip by a few days to save money on your car hire. In fact, the longer you use the car, the lower the cost of each individual day, and sometimes a weekly rental will cost you even less than a 5-6 day trip.
Choose a car according to your requirements only. In short, don't reserve a 12 seater car if your travel companions can fit perfectly into a 9 person car hire. It costs less, which means you won't overpay.
Insist on a full-to-full fuel option. Even if you're asked to prepay for fuel, refuse it, because it's another step to waste money. The point is that they don't compensate you for unused fuel.
Avoid underage rentals. Younger drivers always pay more for the same vehicle. If you are travelling with someone who is 25 or more years old, let him be the main driver for saving money.
Check extra options carefully. By default, your 9 seater car hire UK may come with some extras onboard - this makes the total price bigger. Check additional options and discard what you don't need.
How to hire a 9 seater in the UK with Rental24.co.uk?
A simple and hassle-free booking process is what you need when looking for a 9 seater people carrier for hire? You are in the right place because our unique online engine allows you to achieve your goal quickly and efficiently. Let's get started now!
Move to the top of the page and find the search form, where enter the desired pickup location for your 9 seater car hire self drive vehicle.
Specify the time frame for the period of your road trip, i.e. start and end dates.
Click the orange Search button.
You have a complete list of available cars. Click the scrolling at the top of the page to the right, and then select the '9-seat Minivan' tab. This will sort the search results.
Compare 9 seater car hire and choose the one you like.
Carefully read the rental conditions.
Enter your personal and payment details.
Confirm your booking!
What do you need to hire a 9 seater in the UK?
The list of documents required for the 9 seater minibus hire includes:
Driving licence issued in the name of the lead renter. It must be in use for at least the last 2 years, and not contain any major endorsements.
Credit or Debit card with sufficient limit and the name of the main driver on it.
Alternative photo ID, confirming the driver's identity. It can be either a passport or another similar document.
A printed version of the voucher confirming your 9 seater hire reservation.
Any other document needed.
What licence do I need to drive a 9 seater car hire?
According to UK law, you are allowed a self drive 9 seater minibus hire if you have a standard B licence issued before January 1, 1997. This document automatically includes a D1 entitlement, which allows means you may drive all minibuses without any restrictions. As stated in the law, the minibus is a vehicle for 9-12 passengers.
Driving licences issued after January 1, 1997, don't have D1 entitlement enabled by default. However, you will still be allowed to hire a car 9 seater and then drive it, but subject to certain conditions:
You are at least 21 years old;
You have held a driving licence for 2 years or more;
You drive a minibus on your own initiative;
You drive the 9 seat minibus hire not for commercial purposes;
You don't charge passengers;
The maximum weight of a car hire 9 seater doesn't exceed 3.5 tons, or 4.25 tons if equipped for the disabled.
How old do you have to be to hire a 9 seater car in the UK?
9 seat minibus hire UK is considered to be a passenger transport, therefore companies have stricter age requirements for renters due to the increased responsibility imposed on the driver. Most often, the minimum age set by providers is 21 years old, but it can be increased to 23 and sometimes up to 25 years for specific models.
9 seater van hire also implies at least 2 years of driving experience without serious violations and accidents. Each company has individual requirements. Thus, always check the age policy before booking your 9 seater car hire.
Which 9 seater vehicle for hire is the best?
Among the vast number of car hire models on the market, it can be difficult to select the right option. To make your final decision easy, check out 3 popular 9-passenger carriers now: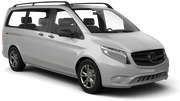 Mercedes Vito 9 seater hire
In short, Mercedes Vito 9 seater hire UK is a luxury vehicle that offers incredible passenger comfort. Its modern interior will add a stylish touch to your trip. The dynamic characteristics provided by Mercedes 9 seater hire are also at their best - you will feel confident on the motorway. The smooth suspension of 9 seater Mercedes hire allows you to fully enjoy the ride on any road surface.
The Mercedes 9 seater for hire has everything you'd expect from a premium car, while a fashionable body shape will always keep you in the spotlight.
Ford Transit 9 seater hire
This is a great option in the passenger van class.
Ford Transit minibus 9 seater for hire features an affordable price, an efficient engine, a large enough interior, and a spacious trunk. What else does the budget traveller need? Good old Ford 9 seater hire will help you save money and have enjoyable travel experience.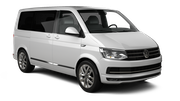 VW Transporter 9 seater hire
Every time you hire a VW Transporter 9 seater, you get the perfect combination of price and quality. The laconic and spacious interior of the car sets you up for a good ride, making the VW 9 seater hire an excellent choice for people who value practicality.
When it comes to the trunk, 9 seater transporter hire can fit 4 huge suitcases, just like its rivals. The VW shuttle 9 seater hire is always a good travel choice that guarantees comfort and reliability.
How much is a 9 seater car hire deposit in the UK?
The deposit for a 9 seat vehicle hire in the UK is between £500 and £2,600, so make sure that the appropriate limit is available on your credit card. The final price depends on both the provider and the vehicle class - the more expensive the market value of the car, the higher the deposit is.
The deposit will be temporarily blocked on your electronic card and will become available again within 14 days after the 9 seater MPV hire is returned to the company's car park.
Can I hire a 9 seater with a debit card in the UK?
You hardly have a chance to hire a 9 seater van without a credit card in the United Kingdom as this is a certain risk for the providers. However, we work closely with car hire agencies, and some of them are still ready to work with debit card holders in specific locations.
The only condition is that your debit card must meet some restrictions. You can find more information by choosing a deal and checking the rental conditions. Please be aware that prepaid cards, gift cards, and cash are not suitable for any car hire.
What insurance should I choose for a 9 seater car hire?
It's important to have material guarantees while travelling by minibus. Since damage to a 9 seat car hire can be expensive for you in terms of compensation, it makes sense to think about the full insurance.
Otherwise, you may need an additional insurance plan covering glass and tires. The fact is that modern 9 seater vehicles for hire have all-round glazing, which increases the chance of damaging it. Make sure that not only you but also additional drivers are included in the insurance, or you will face extra expenses in case of an incident.
Can I get a car hire for 9 people with unlimited mileage?
A significant number of companies don't limit mileage in the UK. You can hire a 9 seater with unlimited mileage practically from any reputable international provider, but small local agencies may charge you for extra miles. Please check this information in the rental conditions before making a reservation.
What equipment do car hire 9 seaters have?
Despite the excellent basic equipment of each 9 seater for hire, you may need some additional options. Below you will find a list of all available extras. If needed, enable them when you hire a 9 seater online:
Child/Booster/Infant seat;
GPS navigation device;
Ski rack;
Winter tires, etc.
What does it mean to hire a 9 seater or similar?
According to the policy of the car hire companies, they are required to provide you with a 9 seater minibus hire UK, which will be similar to what you've booked in terms of category and type of vehicle, transmission type, as well as the type of fuel and availability of air conditioning onboard. These characteristics form a unique 4-letter key called the ACRISS (Association of Car Rental Industry Systems Standards) code, and every vehicle has one.
For example, Mercedes Vito 9 seater automatic car hire UK with diesel engine is encrypted among car hire companies as LVAD. But Volkswagen Transporter, Renault Trafic, and Ford Transit have the same code! That's right - you get one of these cars if you hire a 9 seat minibus.
Car hire agencies do this because their fleet is constantly changing and they often need to repair or clean their vehicles, which makes it impossible to guarantee you a specific 9 seater vehicle hire model for the desired time.
How to get a cheap 9 seater car hire in the UK?
What do I need to enjoy a budget trip, and finally, where can I pick up a 9 seater minibus hire self drive near me at an affordable price? This question worries many travellers who are going on a road trip but are not ready to spend too much money on a car. Fortunately, we know how to help you find reliable, quality, and cheap 9 seater car hire UK - just follow a few golden rules:
Book a vehicle much earlier than the start of your journey. Two weeks in advance is the greatest option.
Try to find cheap 9 seater minibus hire in city locations where prices are usually lower than at the airport.
Compare similar offers from different providers to choose the best one.
Plan the right day to start your trip. Cheap 9 seater hire deals are usually available on weekdays.